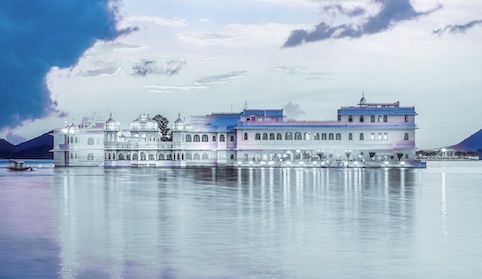 Lake Palace
Udaipur (India)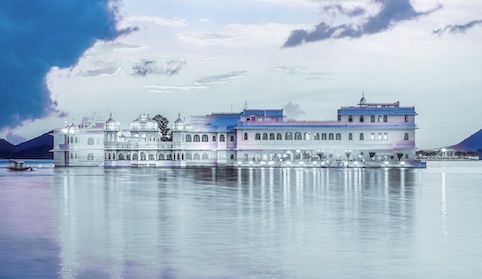 Lake Palace
Udaipur (India)
The Palace was built between 1743 and 1746 under the Maharana Jagat Singh II on the Jag Niwas island in Lake Pichola as his Summer Palace to escape the fierce heat of Rajasthan. The Palace has a fountain garden, courtyards lined with columns, pillared terraces, marble walls adorned by semi-precious stones, and ornamented niches. During the bloody Indian Sepoy Mutiny in 1857, Maharana Swaroop Singh gave asylum on the island to several European families. And to protect his guests, he ordered the destruction of all the town's boats so that the rebels could not cross over to the island.
The Context:
Set in one of the world's most romantic medieval settings, the legendary Taj Lake Palace in Udaipur is the epitome of luxury and Eastern splendor. In an ethereal, enchanting apparition, the Palace seems to float on the island's 4 acres (16,500 m2).
Staying and dining at the Palace is an experience of entering a time machine and stepping into an entirely different era. The "Royal Butlers" in the hotel are descendants of the original palace retainers.
The Music:
A spectacular array of medieval palaces reflect in the lake as if magically wrapped around the white Palace in a swan-like posture.
While standing on the open-air terraces during the daytime, one feels a long horizontal continuity of serenity, the lake's ripples, and bells from distant temples.
In tune with these atmospheric acoustic sound textures, we added delicate string arrangements and the most profound Dhrupad vocals as a tribute to the former Dagar court musicians.
At sunset, grand orchestral majestic strings inspire a moment of catharsis.
As the night falls, a low mist forms on the lake and sets the vibe to an orientalized spiritual Jazz while the impressive medieval panorama lights up as the ultimate enchanting oriental dream.
We approached every venue in symmetry, enhancing the texture with contemporary zest and emotional load at open-air venues.
In contrast, we refined chamber music art at indoor Lounges and Restaurants with seamless eclecticism between East and West.